The Cobbler & Cordwainer
73 Crescent Avenue
New Rochelle, NY 10801
914-632-8312 ~ fax 914-632-8419
Custom & Handmade Footwear
Our designs are focused on comfort.
A few examples from before 2004
This page is changing often, however all information displayed is current and accurate.
Shoe making services such as footwear prototyping and production consulting are also available.
Check again for new styles or contact us to discuss your own footwear ideas and needs.
---
Contact for pricing. With backstrap additional.
These are molded EVA orthotic insoles with leather cover and straps. Made in our shop on special orthotic molds, they hug, cradle and support the foot for extended comfort. Available in sizes 34 to 47. Most accurate sizing can be obtained with a tracing and pedagraph (call for details) of your foot.
---
$900 per pair. All leather with padded collar, leather lined. Leather covered cork support footbed. Vibram™ Wedge cushion sole.

Order by shoe size, or call for instructions on custom sizing and how to measure your foot. Sizes Lady's 5 to Men's 15 - Narrow, Medium, and wide. These have long toes and fit feet with a longer #2 or #3 toe. Bench made in my shop per order. Six weeks delivery.
---
This is a sample of a leather custom made ladies shoe. We also made the last to build the shoe on.
Contact us for pricing

---
The first of our new HEMP SERIES. Uppers and insole lining are all natural Hemp. Men's or Lady's full sizes $180 Pair
---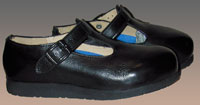 Custom made, fully lined shoe from custom lasts for those who cannot buy off the shelf shoes. Custom shoes require personal visits and are not available mail order.
Orthopedic shoes can be designed to meet your tastes and needs. Available for ladies and men.

Prices starting at $1500
---
Orthopedic custom made Dress shoes. Priced per pair depending on particular needs. Client is required to visit the New Rochelle workshop for measuring and/or casting.
---
Please contact us to place orders - MC, VISA, PAYPAL, or check for payment
---
AVAILABLE by MAIL ORDER, or CALL FOR APPOINTMENT.